Aether Template - A premium NamelessMC template by Coldfire
Aether is a premium NamelessMC template with a sleek design, extremely configurable style, and many features that improve your website.

The cheapest premium template on the market

(ONLY $4.98 USD!)

Fully mobile responsive
100% customizable theme colors (supports any hex or RGB code)
Supports all popular modules
Less CSS files for lower resource usage
High quality support
Clear, easy to use, and good looking StaffCP page
Everything configurable via a module in the StaffCP
Custom, highly configurable portal page design
Utilizes Font Awesome 5 for icons
Built with Bootstrap
Supports Google Analytics
You can add favicon, logo, and header background images
Toggleable color overlay on the header background image
Server and Discord status/users online boxes that can be disabled on mobile
Toggleable carousel with up to 5 slides on the home page
Ability to change slider description and title text color
Customizable background-color
Multiple fonts
Ability to configure logo height on mobile and other platforms
Ability to configure logo margin from top on mobile and other platforms
Alerts with custom title and message
Announcements with custom title and message
Re-designed forum post spoilers (like Hypixel's)
Sticky navbar on large screens, not sticky on mobile
Tested on 50+ devices using Lamdatest!

Forums
Vote
Forms
Members
Friends
Infractions
Buycraft / Tebex
Resources
Staff
Voting Plugin Integration
ParticlesJS
Rules
ChatBox
Crafting Store
Iframe
Suggestions
Tickets
Wiki

EnglishUS
EnglishUK
Czech
German
Italian
Spanish


Home Page: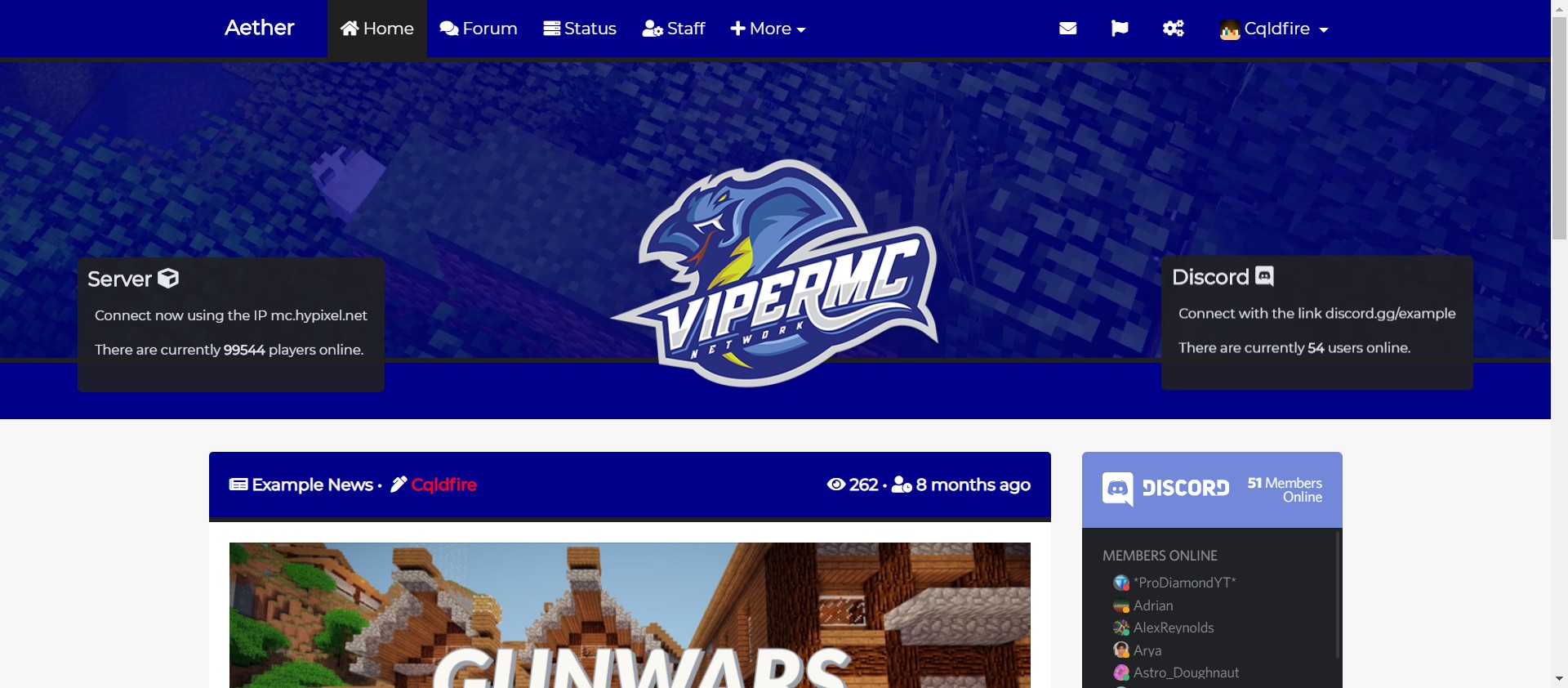 Portal Page: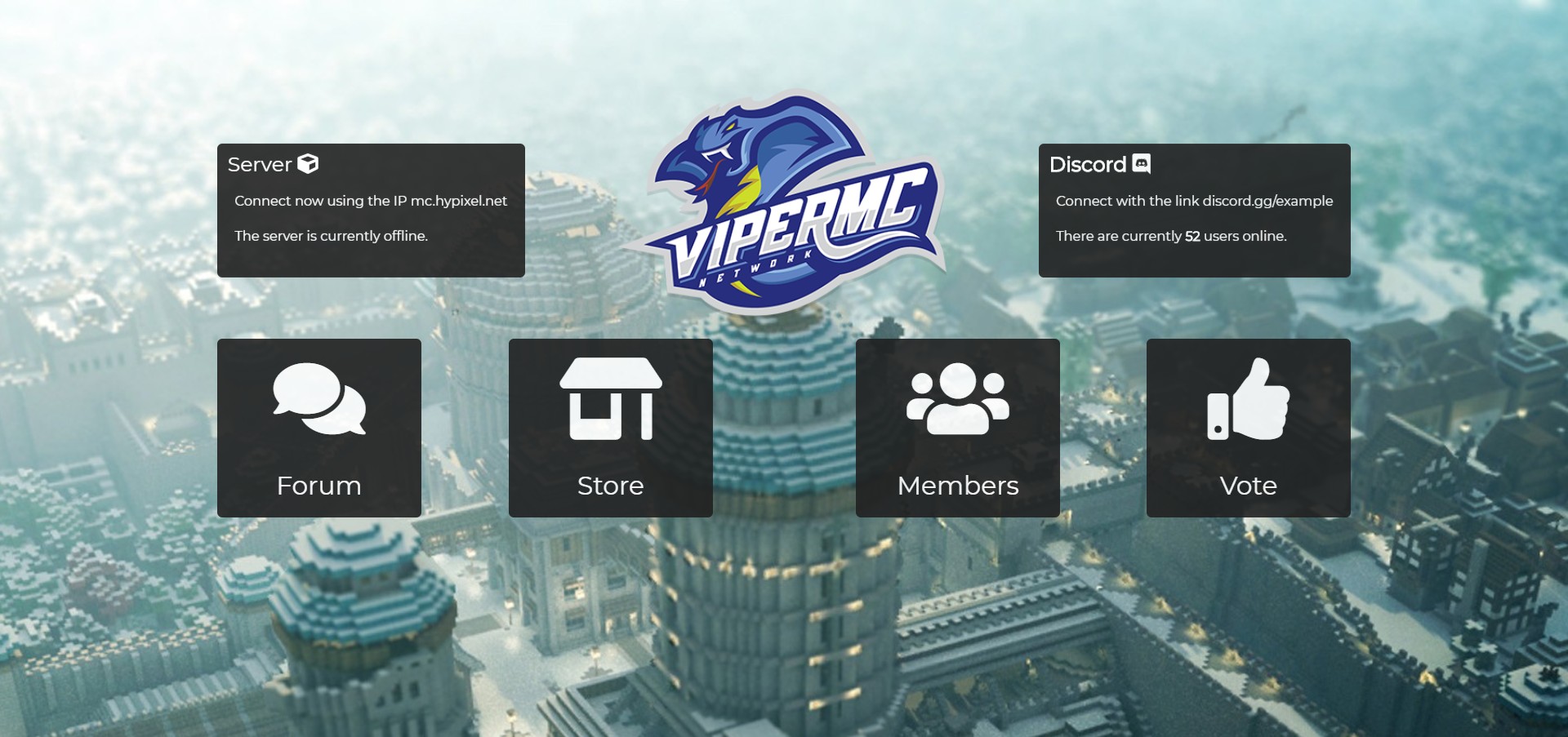 StaffCP Page: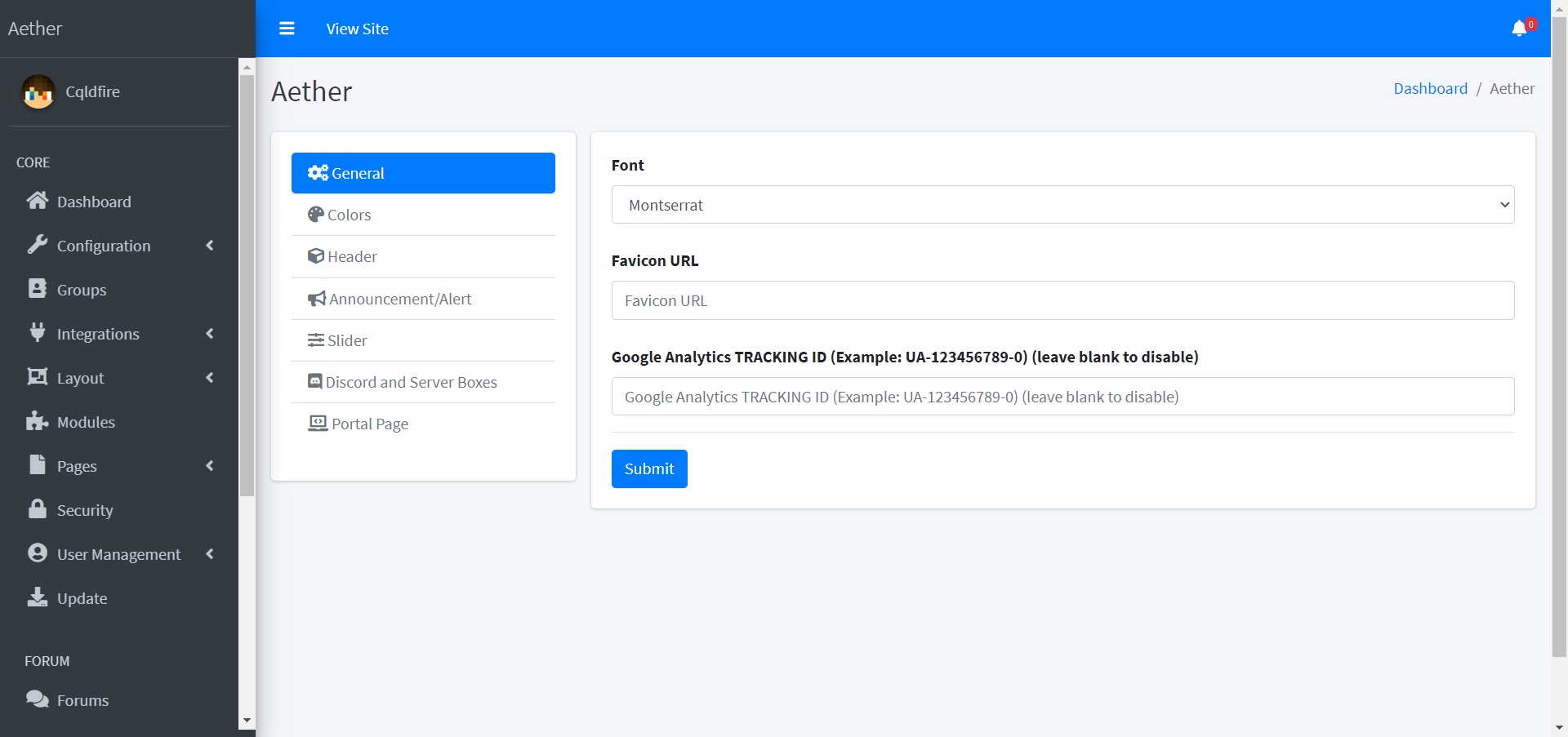 Make sure you have NamelessMC v2 pre-7! NamelessMC v1 will NOT work!
Unzip the file and upload the contents of the "upload" file straight into your main NamelessMC installation directory (where the folders core, custom, modules, uploads, and cache are)
Head over to StaffCP -> Modules on your website, click the "Install" button
Enable the "Aether" module
Head over to StaffCP -> Templates, click the "Install" button
Enable the "Aether" template by clicking the "Activate" button, and make it default by clicking the "Make Default" button
You're done! Configure the template at StaffCP -> Aether

If you liked Aether please leave a 5-star review!